If you're looking for an affordable beach destination that offers much more than sun and sand, Okinawa, Japan fits the bill. Okinawa is a cluster of islands in the Pacific, about 2 hours south of mainland Japan by plane. It boasts beautiful scenery, a sub-tropical climate, amazing marine life, and gorgeous beaches.
Think of Okinawa as a less-expensive version of Hawaii. With the combination of outdoor, historic, and cultural activities, you could easily spend a week or more on Okinawa and never run out of things to do! Here's the information you need to start planning your trip.
Okinawa Orientation
It's helpful to understand the layout of Okinawa so you can plan your visit and decide where to stay. The main island is about 70 miles from top to bottom. Naha, the capital, is on the southern third of the island. The cluster of U.S. military bases is in the lower central area of the island (about 45 minutes north of Naha). The northern part of Okinawa is more rural. It has far fewer inhabitants, and much of the land is subtropical forest.
Things to Do in Okinawa
Between the two of us, my husband and I have been to Okinawa three times (so far). We've stayed at Kadena Air Base, but we've also rented an Airbnb apartment in Nago, a small city on the northern part of the island and a good base from which to explore the beautiful nature on northern Okinawa.
Here are some places we visited in Okinawa that I recommend.
Cape Hedo
This is the northernmost point on the main island of Okinawa. Cape Hedo is where the East China Sea meets the Pacific Ocean, and the views from the cliffs are stunning. Walk along the short trails to catch the scenery from different vantage points, then follow the road down to the quiet beach at the base of the cliffs.
Hiji Falls
Hiji Falls is the island's tallest waterfall and one of the most recommended sites in Okinawa. The hike to the falls is beautiful and takes 30 – 40 minutes. It's not particularly strenuous and is suitable for all ages, but be careful, because the trail is often wet and slippery in patches.
Churaumi Aquarium
This amazing aquarium has some of the most unusual marine life you will ever see. One of the main attractions is their huge tank of whale sharks, manta rays, and other large fish. You can also see beautiful coral, giant squid, and other unique sea creatures. Outside the main building are a manatee pool, a sea turtle pool, and a dolphin lagoon.
Pro tip: you can save about $6 per person on adult admission if you arrive after 16:00. Click here for the aquarium's hours and admission prices.
Pizza in the Sky
Located on the top of a small mountain at the end of a winding road, this restaurant is famous for its incredible panoramic views of Okinawa. The pizza is tasty, but the view is definitely the main event. It's a short drive from Churaumi Aquarium, so it makes for a great lunch spot before or after your visit.
Nakagusuku Castle Ruins
These ancient castle ruins date from the 14th century and are a UNESCO World Heritage Site. The castle walls are amazingly well-preserved, and you can wander through the various rooms of what was once an immense structure. One of the best parts of Nakagusuka Castle is the amazing 360 view of the island.
Nakamura House
Only a short drive from Nakagusuku Castle is the Nakamura House, an example of a traditional Japanese farmhouse. You can walk through all of the rooms in this large and beautiful old home and imagine exactly how it looked when it was bustling with activity. Nakamura House also has a gift shop where you can relax, have tea, and enjoy traditional Japanese sweets.
Banyan Tree Golf Course
If you're a golfer, Okinawa is a fantastic travel destination! The island has many golf courses, but look no further than Kadena Air Base for a world-class par 72 course with incredibly low green fees.
Banyan Tree is the larger of two golf courses at Kadena and is located right on the base (the other course, Chibana, is a par 3 located just outside the gate).
Kadena Marina
This dive shop and aquatic center is located just a mile from Kadena. You can rent any type of marine equipment, including boats, jet-skis, stand-up paddles boards, snorkeling and SCUBA equipment, kayaks, and fishing gear. You can also take their course to obtain your SCUBA certification or, if you are already certified, join one of their cool diving trips.
After a day on the water, enjoy a meal overlooking the ocean at Kadena's Seaside restaurant.
Kokusai Dori
This street is frequently recommended as a "must-see" in Naha. While very touristy, it's a great place to buy souvenirs and gifts. Most stores have free tastes of the many traditional Okinawan treats available for sale, so you could easily fill up by visiting multiple stores on this street.
More Okinawa Sites
We still have a long list of other Okinawa destinations to see on future visits, including the WWII memorials (south of Naha), Kouri Island (it's a short drive from the aquarium, but we didn't have a chance to see it), and Miyako Island, one of the many smaller islands that make up Okinawa and must be accessed by plane.
There are hundreds of things to do in Okinawa for all ages and interests, so take your pick! For more ideas, visit Okinawa Hai, a website created by members of the U.S. military community.
Where to Stay in Okinawa
You have many affordable lodging options in Okinawa. Choose your accommodations based on where on the island you want to stay and how you want to spend your time.
Kadena Air Base
If you fly to Okinawa Space-A (more on that below), you will most likely land at Kadena AB. Kadena has two lodging options: Shogun Inn and Navy Gateway Inns and Suites. You can walk to the latter, but the Shogun Inn is far from the terminal.
Some of the other U.S. military bases in the area also have lodging, but Kadena is the largest base and has the most facilities. Retirees and active duty stationed outside Japan can use MWR facilities as well as the BX and commissary, which makes staying there incredibly convenient. The trade-off of staying on base is that you don't get much of the Japanese experience.
Airbnb
A better way to get a more authentic experience and a true taste of Japan is to use Airbnb. You can find apartments all over the island, including in Naha, near the bases, and in Nago, where we stayed.
Our apartment in Nago was about $35 per night, which was significantly cheaper than staying on base and saved us a lot of time driving to attractions on the northern part of the island.
| Click here to learn more about using Airbnb in Japan.
Okuma Beach
Another lodging option on Okinawa is Okuma Beach, a U.S. military recreation facility. It's on the northern part of Okinawa, near Hiji Falls (about a 90-minute drive from Kadena).
Okuma Beach offers a variety of beach and marine activities, including jet ski rental, glass bottom boat tours, and snorkeling. They also have tennis, golf, and Go-Karting. Accommodations include cottages, cabins, bungalows, and individual studios/suites.
Getting to Okinawa
Flying Space-A
Okinawa is one of the most accessible destinations in the Pacific for military travelers flying Space-A. The most frequent flights from the U.S. directly to Okinawa are from Travis AFB and JB Pearl Harbor-Hickam. You can also take the Patriot Express from Seattle Tacoma (SeaTac) International Airport. If you're starting from somewhere else in the Pacific, there are frequent hops from Yokota AB and MCAS Iwakuni in Japan and from Andersen AFB in Guam.
| Click here for more information about flying Space-A to Japan, including immigration procedures specific to Okinawa.
Flying Commercial
Japan has several low-cost airlines that can be an incredible bargain if you're traveling to Okinawa from somewhere else in Asia. Even if you're on mainland Japan, unless you are very close to MCAS Iwakuni or Yokota AB, it might be more cost-effective to fly from a local airport to Naha. We flew from Fukuoka (the southwestern part of mainland Japan) to Naha for less than $50 per person round trip on Peach Aviation. Vanilla Air is another low-cost carrier that flies into Naha.
Getting Around
If you plan to spend any period of time in Okinawa, you need a rental car. Even if you stay on Kadena, a car is necessary because there is no base shuttle, and the base is very spread-out.
To rent a car in Japan, you must obtain an International Driving Permit (IDP) before you arrive. IDPs cost $20, and all you need are a valid U.S. driver's license and two passport-size photos.
| Click here for more information about renting a car in Japan.
When renting off base, we found the best deals at Grace Rental Car in Naha. Their vehicles were brand-new, and the company had a convenient free shuttle to and from Naha airport. You can book your reservation via their website, which has an English version.
If you're flying Space-A to Okinawa, renting on base may be a better idea. Times Car Rental has two locations: one is by the gas station close to the passenger terminal, and the other is in building 328 of the Shogun Inn. It might be more expensive than Grace, but when flying out from Kadena, if you are able to drive yourselves to the immigration office and leave the car in the terminal parking lot, you will save a lot of time, money, and hassle!
Tips for Driving in Okinawa
The Japanese drive on the left side of the road. The driver's seat and steering wheel are on the right side of the vehicle. It takes some getting used to, so I recommend practicing on base to get the hang of it. Fortunately, the Japanese are generally more patient and less aggressive than drivers in the average American city. No one honked or gave us the finger when we made mistakes.
When driving around the island, there are some very scenic routes that hug the coast and offer incredible views. I recommend doing these drives at least once or whenever you have time. There is also an expressway that runs down the center of Okinawa. It is much faster, but it has tolls and it's not nearly as scenic.
Ready to Pack Your Bags?
Okinawa has something for everyone, whether you like beaches, diving, hiking, shopping or history. As a military traveler, it's pretty easy to fly Space-A to Okinawa, and the island is generally a lot cheaper than Hawaii. What more could you ask for in a travel destination?
This article was originally published as a guest post on a blog called Lady Cat 6 from Outer Space-A. The owner of that blog has since moved her operation to the social media platform MeWe. She now shares her experiences and expertise in her group, Retired Military Space-A Travelers.
Related Reading:
Flying Space-A to Japan: 8 Things You Need to Know
Pro Tips for Using Airbnb in Japan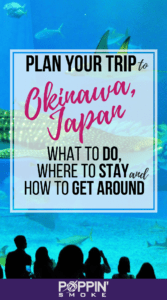 The post Visiting Okinawa, Japan: What to Do, Where to Stay, and How to Get Around appeared first on Poppin' Smoke.