Seoul, Korea is one of Asia's top modern cities and a prime destination for sightseeing, shopping, cuisine, and nightlife. Right in the middle of the action is the Dragon Hill Lodge (DHL), a resort-style hotel for use by members of the U.S. military community.
One of four Armed Forces Recreation Centers (AFRCs) worldwide, DHL is the perfect mix of luxury, convenience, and affordability.
The resort is located on U.S. Army Garrison Yongsan in downtown Seoul. Yongsan is surrounded by some of the city's best neighborhoods, known for unique shops, trendy bars, and top-notch restaurants.
Getting to DHL is easy, whether you fly Space-A into Osan Air Base or take a commercial flight to the ultra-modern Seoul Incheon International Airport. The inexpensive or free shuttles offered by military Morale, Welfare, and Recreation (MWR) also make it cheap and convenient.
Ready to plan a getaway and treat yourself to the excitement of Seoul? Here's what you can expect at Dragon Hill Lodge!
Our Stay at Dragon Hill Lodge
In January 2019, we traveled from our home in Fukuoka, Japan to visit Seoul and enjoy a long weekend at DHL. The resort was the perfect base from which to explore the city.
We had a large room with a King-size bed and a panoramic view of Seoul Tower, an especially beautiful backdrop at night.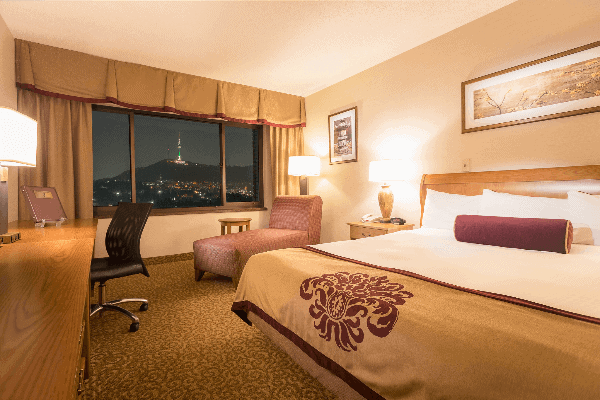 DHL frequently offers specials, and on this trip, we received a $100 meal credit for a 3-night stay. The credit was good at any of DHL's restaurants, so it effectively knocked $33/day off our room rate.
We got our daily workouts in at DHL's well-equipped fitness center in the POiNT Health Club, which is free for DHL guests. The club has a 24/hour gym, a large lap pool, a hot tub, and a sauna.
We also stopped by the massage therapist located in DHL's Market Square shopping center. Pricing was very reasonable and the massage was on point!
During our stay, we indulged in the fantastic dining options and simply enjoyed the American-style luxury of the resort. It was a welcome contrast to our small Japanese-style apartment in Fukuoka.
Eligibility
DHL has a detailed summary of eligibility on their website. Eligible patrons include active duty, reserve, and retired members of the military community and their family members. Honorably-discharged veterans with a 100% service-connected disability are also eligible. Check the DHL website to see a list of all eligible patrons.
Dragon Hill Lodge Rooms, Rates, and Package Deals
DHL offers three types of guestrooms: Standard Rooms, Family Suites, and Deluxe Suites. In order to see the rates, you must click "Book Now," under the room of your choice. Note that rates for Standard Rooms vary by rank.
While you can book rooms individually, DHL's special offers and packages are a much better deal.
As mentioned, one of the special offers at the time of our visit was a $100 meal credit for a 3-night stay. More recently, a 3-night stay came with free daily breakfast at their generous buffet.
If you have more time, DHL offers fantastic packages, many of which are designed with retirees in mind. Here are a few highlights:
Those are just a few examples, and the specials/packages change frequently, so check the DHL website to see their latest offers!
Dining at Dragon Hill Lodge
DHL has a total of six eateries to suit every taste and occasion.
Sables Steak & Seafood is an upscale restaurant offering top-notch cuisine and service.
Greenstreet has an à la carte menu with a variety of choices along with a full buffet at every meal. The restaurant is most famous for its breakfast and dinner buffets, and their Sunday brunch was voted Best in the Pacific by Stripes Pacific in 2018.
Bently's is DHL's sports bar. It's a great place to catch a game on TV with a beer and tasty snack.
The Bakery/Deli has coffee, homemade donuts, pastries, cookies, and cakes along with sandwiches and hot deli items. They make all of the desserts, breads, and other baked goods for DHL's restaurants, and you will see locals who come in just to buy the bread.
Pro tip: Don't leave DHL without trying a donut; they are delicious!
In a hurry? DHL also has a Pizza Hut and Subway.
Things to Do and See in Seoul
The Discover Seoul concierge service, located in the lobby, will book your tours in and around the city of Seoul.
The tour of the Demilitarized Zone (DMZ) and the Joint Security Area is their most popular option. They also offer day and night tours of Seoul, visits to traditional Korean villages, and numerous other cultural tours, just to name a few.
Whatever you want to do in Seoul, ask them, and they can arrange it for you!
Another must-see place in Seoul is Gwangjang Food Market, which was our first outing after arriving at DHL. My husband, who is a huge fan of Korean cuisine, had seen Gwangjang on a cooking show and wanted to experience it for himself.
Wow! The sights, sounds, and smells of this market are intense! We tried many different foods, and got a real taste of Korea. Bibimbap, kimchee and seafood pancakes, cucumber kimchee, and the delicious soups were full of flavor.
Search for Gwangjang on Youtube, and you will get a view of this incredible spot.
We also visited another famous area in Seoul called Dongdaemun Market. This area of 26 malls and 30,000 shops is open 24 hours/day. Many of the vendors offer wholesale prices, so if you are in the market for clothes, shoes, kitschy gifts, household items, or practically anything else you can think of, then Dongdaemun Market is for you!
If you're a war buff, the War Memorial of Korea is a must-see. It is full of military equipment and weapons from the Korean War. The exhibits are also in English, and the entire museum is easy to navigate. Go there to understand the war that took nearly 40,000 American lives and left more than 100,000 wounded.
Getting to Dragon Hill Lodge
DHL has comprehensive information on their website that explains several ways to get there.
If you are arriving from Seoul Incheon airport, you can take a free U.S. Forces Korea shuttle, which runs three times per day. It stops at both airport terminals, then goes straight to DHL.
We arrived at Incheon Airport in the early afternoon and did not want to wait for the next shuttle in the evening. We purchased tickets for an airport limousine bus, which cost 28,000 won (about $25) and took approximately 80 minutes. It stopped at several hotels in Seoul before dropping us at the Crown Hotel, the closest stop to DHL.
From there, we took a short cab ride for less than $5 to DHL. Please note that the shuttle back to the airport makes more stops and took nearly 2 hours, so plan accordingly!
As described on the DHL website, you can also take an AAFES taxi all the way from the airport, but it will run you about $65.
If you arrive at Osan AB, you can take the shuttle that travels between Camp Humphreys, Osan, and USAG Yongsan. It runs six times daily, Monday through Sunday, and costs approximately $7.00 for the one-way trip.
| Related Reading: How to Fly Space-A to Osan AB
For local travel within Seoul, cabs are very inexpensive. A taxi from DHL to one of the neighborhoods surrounding the base is generally $5 or less. In our experience, most drivers spoke English and knew where Yongsan was located.
Pro tip: have the DHL staff write in Korean the name of the base and hotel on a piece of paper. Show this to the taxi driver when you get in the cab, just in case.
Base Access and the Future of Yongsan
DHL is located on USAG Yongsan, and you need proper identification to enter the base, just as you would on any military installation.
Retirees and their dependents are requested to enroll in the Defense Biometric Identification System (DBIDS) after accessing Yongsan for the first time. Click here for more information about how and where to enroll.
Although USAG Yongsan is closing within the next year (scroll down to the Media section on this page to see the tentative schedule), DHL will remain open and continue to operate after the base closes. We will update this article with new access procedures as the information becomes available.
Ready for a Trip to Seoul?
Staying at Dragon Hill Lodge makes a trip to Seoul easy, affordable, and fun for military travelers! Use the benefits you earned to enjoy a stay at one of the premier AFRC destinations and experience the sights, sounds, and tastes of South Korea!
Related Reading:
Flying Space-A to Osan AB: What You Need to Know
Staying at the New Sanno Hotel in Tokyo
The post Staying at Dragon Hill Lodge, a Military Resort in the Heart of Seoul appeared first on Poppin' Smoke.