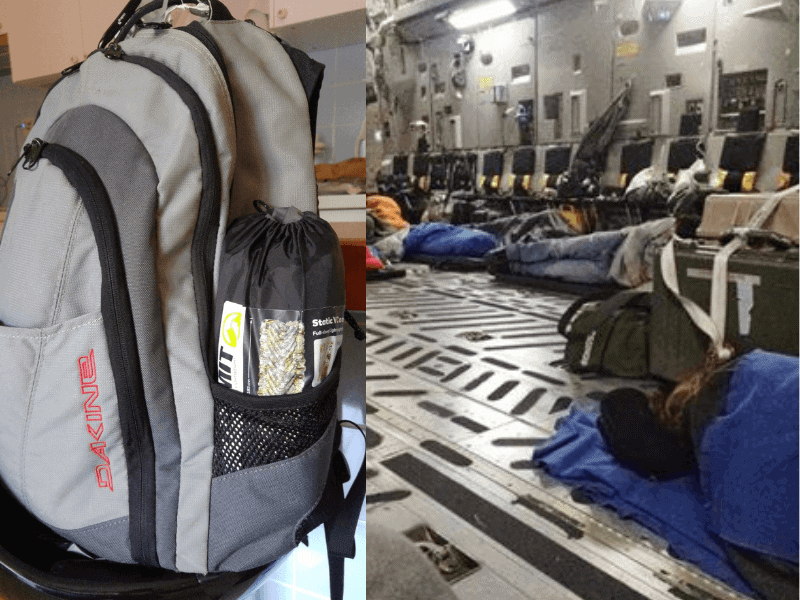 One of the most important items to own as a Space-A traveler is a good inflatable sleeping pad or air mattress. Why? Because on many military cargo aircraft, when the plane reaches altitude, passengers are often permitted to stretch out on the floor or across the webbed seating.
This perk is one of the reasons why many Space-A travelers would much prefer a C-17 to a commercial aircraft (or even the Patriot Express). The ability to lie down and sleep makes a 10+ hour flight fly by!
So, what makes for a good sleeping pad? Based on our extensive experience flying Space-A, here are the features to look for.
1. Light and Easy to Transport
Look for a sleeping pad that is small and light that you can easily transport. When flying Space-A, you usually won't know in advance what type of aircraft you'll get or whether you will have room to stretch out. You don't want a sleeping pad that's cumbersome to carry when you may not even be able to use it.
Early in our Space-A travels, we purchased Army-issue foam sleeping mats at the military clothing and sales store. They were too big and heavy to attach easily to our backpacks, and they were very cumbersome to carry.
As luck would have it, the next few Space-A flights we took were aircraft that had regular passenger seats, so we didn't even get to use our sleeping pads. Eventually, we got tired of lugging them around and left them behind at a hotel.
2. Easy to Inflate
Purchase a sleeping pad that is not difficult to inflate. Look for one that self-inflates or only requires a few breaths. Keep in mind that blowing up a sleeping pad at 30,000 feet may require more effort than blowing it up in your living room!
Several years ago, in anticipation of a flight from Yokota Air Base, we purchased inflatable pool rafts, because they were the only option we could find at the last minute. The rafts were good quality and made of thick, sturdy material, but they were exhausting to blow up!
| Related Reading: 8 Things to Know About Flying Space-A to Japan
After the extreme effort required to inflate those rafts, we slept comfortably, but we knew we weren't going to use them again.
3. Comfortable
Needless to say, you want your sleeping pad to be
comfortable. Test it on a hard floor at home to verify that it has enough
cushion and that it's large enough for you. Keep in mind that some inflatable
pads aren't comfortable until you lie down, because your weight distributes the
air evenly.
On our first Space-A flight in 2015, we were not prepared. We flew on a C-17 from JB Andrews to Ramstein, Germany, and fortunately, the crew had some extra wool blankets, which they kindly let us use. We folded them in half and lay on top of them, but they did not provide enough cushion on the hard metal floor of the plane.
| Related Reading: 11 Things to Know About Flying Space-A to Ramstein
4. Durable
Your sleeping pad may take a beating as you travel around the world and lie on the floor of aircraft or across webbed seating. Ensure you purchase a good quality pad that won't rip or shred.
5. Easy to Deflate and Repack
This part is easy to forget until the first time you've used your sleeping pad and you're preparing for landing. Make sure you can easily deflate/refold the pad to its original size and put it back in the carrying case.
Remember those pool rafts we bought in Japan? They were extremely difficult to deflate, and folding them back into their original carrying case was virtually impossible.
Our Preferred Sleeping Pad: Klymit Static V
After all that trial and error, we finally have the perfect sleeping pad: the Klymit Static V.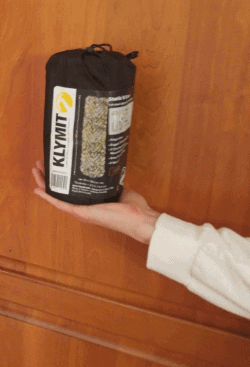 We bought the Static V based on recommendations from numerous other Space-A travelers. It comes in various colors/patterns, at least one of which Amazon usually has on sale. The "King's Desert Shadow" was on sale that day, so that's what we bought.
When it arrived, I was shocked at how small it was. The packed size is only 3" x 8" and fits in the palm of my hand. It weighs 18.6 oz.
The Static V inflates to 72" x 23" which is the perfect length, because I'm 5'10". It usually takes me about 15 breaths to blow it up.
The first time I used my Static V was on a KC-135, which is a tanker. These planes have webbed seating along the sides of the aircraft, and ours had cargo in the middle, so we did not have room to lie on the floor. Fortunately, there more seats than Space-A passengers, and I was able to inflate my sleeping pad and stretch out across multiple seats.
It was the best night's sleep on a "red eye" that I've ever had!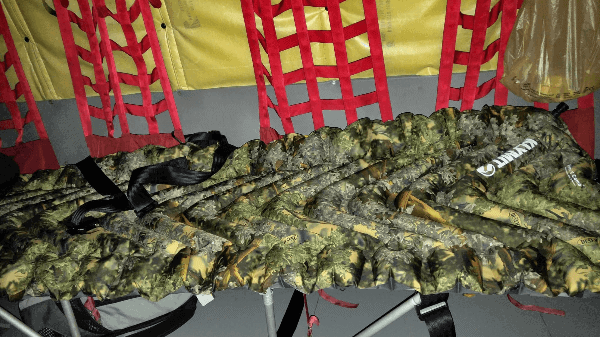 Since then, I've also had the opportunity to use my Static V while lying on the floor of a C-17, and it was equally comfortable!
Which Sleeping Pad is Right for You?
We've had a great experience with Klymit, so that's the brand we recommend. They make several other highly-rated models of sleeping pads. Our pads are not insulated, but the Static V comes in an insulated version.
Looking for something even lighter than 18.6 oz? The Static V2 Ultralight weighs only 16.3 oz. but has the same dimensions as the Static V when inflated.
The Insulated Static V Lite give you extra warmth at a weight of 19.6 oz.
Finally, as noted above, the Static V is only 23" wide, so if you're broad, the Static V Luxe might be a better fit at 30" wide. It comes in an insulated version and a non-insulated version.
Comparison of Klymit Sleeping Pads
Click on the product name to see pricing.
What Else Do You Need for Space-A Travel?
Your preparation will determine your comfort level during Space-A travel. Bringing your inflatable sleeping pad and a travel pillow, dressing in layers, and packing plenty of snacks to hold you over will help you feel rested when you get to your destination. Click here for a full Space-A packing list, including what to wear, what to bring, and what documentation you need.
With the right gear, you should be all set for your next Space-A adventure!
Related Reading:
Lessons Learned from Flying Space-A Across the World
Frequently Asked Questions About Space-A Travel
Quickstart Guide to Military Space-A Flights
The post How to Choose the Best Sleeping Pad for Space-A Travel appeared first on Poppin' Smoke.