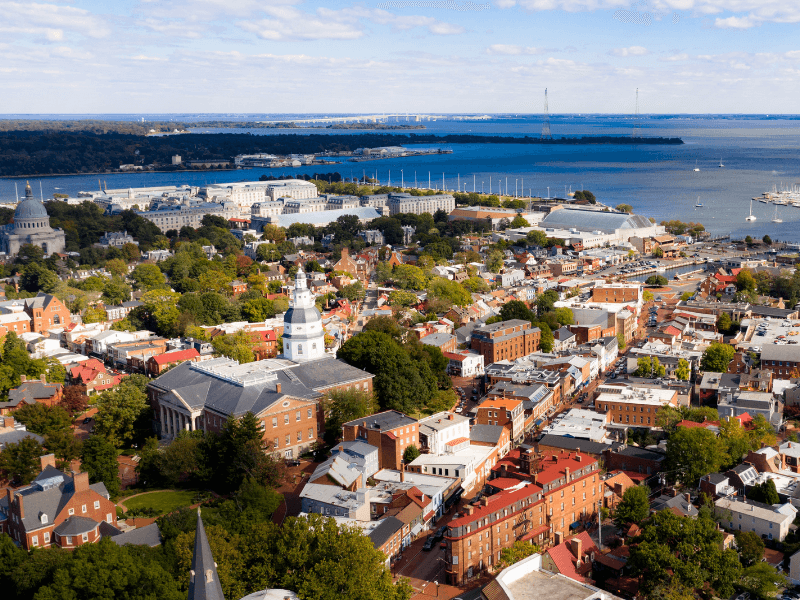 What Mid-Atlantic city makes for the perfect romantic getaway, is a great golf destination, an ideal spot for a girls' weekend or outdoor adventures, and has tons of good restaurants, plus a dose of history and culture?
The answer is Annapolis, Maryland!
As a member of the military community, you are eligible to stay in military lodging in the city's best location possible and have access to many of the above activities for a fraction of what civilians pay.
Annapolis was one of our favorite getaways during my husband's many tours in the Washington, DC area. It was the perfect mini vacation, whether we wanted to stay active outdoors or to simply relax and enjoy a break from DC. More recently, I took my mom to Annapolis for a mother-daughter trip, and it was perfect for that occasion, too!
Here's everything you need to know to plan your getaway.
Where to Stay: Navy Getaways Annapolis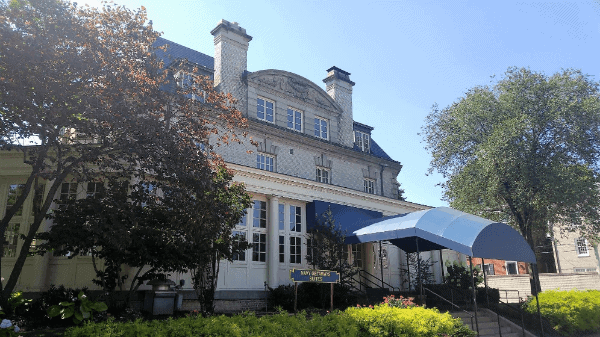 One of the best parts about visiting Annapolis is that you can stay on the campus of the United States Naval Academy. The Naval Academy is located in the heart of Historic Annapolis, about 32 miles east of Washington, DC and 24 miles southeast of Baltimore Washington International airport (BWI). The stunning campus sits on the shore of the Severn River at the mouth of the Chesapeake Bay.
The hotel is Navy Getaways Annapolis (formerly Navy Gateway Inns & Suites). It's in the same building as the Naval Academy Club, a short walk from the Naval Academy Visitor Center, and only steps from the Academy's famous chapel.
Navy Getaways Annapolis has 16 rooms, all of which are one-bedroom suites. Some of the suites are quite large and feature a separate dining room, but all are comfortable, spacious, and meticulously clean. Each suite has a coffee maker, microwave, and refrigerator, but you can also use the fully-equipped shared kitchen on the second floor. As with most military lodging, free laundry facilities are available.

While staying at Navy Getaways, you have temporary membership to the Naval Academy Club and can dine at The Alley, a cozy restaurant and bar located on the lower level of the building. The Alley serves lunch, happy hour, and dinner. When you check in for your stay at Navy Getaways you will receive a 15% coupon for dining at The Alley.
Navy Getaways is located in an elegant historic building. Please note that all suites are on the 2nd and 3rd floors, and the building does NOT have an elevator.
Navy Getaways Annapolis Rates, Eligibility, and Reservations
Rates at Navy Getaways Annapolis range from $130 – $155 per night, which is a bargain for the area. Historic Annapolis has a limited number of hotels within walking distance, and rates are often significantly higher than at Navy Getaways.
Eligible guests include active duty, reserve, and retired members of the military community and their family members. DOD civilians and certain veterans are also eligible to stay. Click here for more details about eligibility.
Keep in mind that dependents can stay at Navy Getaways without their sponsor and can bring guests. For example, I stayed there with my mom, who has no military affiliation. This flexibility makes Annapolis a great option for spouses who want to travel without their sponsor or retirees who want to bring grandchildren.
Active duty service members can reserve rooms up to 1 year in advance. Other patrons can make reservations up to 6 months out. If you cancel less than 14 days before your stay, you will be charged for one night.
What to Do in Annapolis
The Naval Academy itself is one of the area's top attractions. If you have never visited the Academy, take advantage of your stay to explore the campus, either on your own, or with one of the public guided tours.
Navy Getaways is in the perfect location to discover Historic Annapolis and has the added bonus of free parking. You simply exit the Naval Academy gate by the Visitor Center (Gate 1) to land right in the middle of the action at the Annapolis City Dock. From there, you can spend a day strolling Main Street, checking out the area's many unique shops and restaurants. You will find tons of local souvenirs as well as many sweet treats!
The Annapolis area also boasts many historic landmarks, museums, and cultural heritage sites. Check out the Four Rivers Heritage website to see a full list of attractions and events.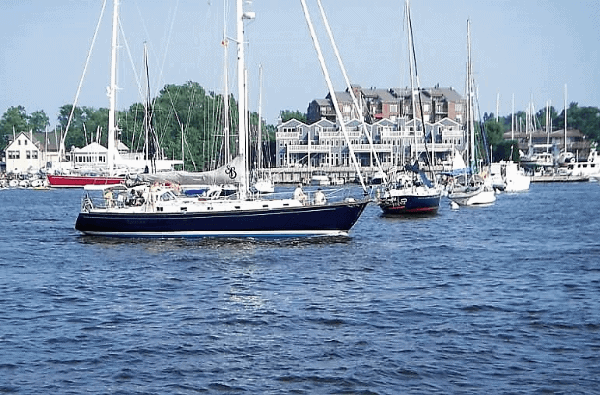 Of course, a visit to Annapolis wouldn't be complete without getting out on the water. Take a 2-hr sailing cruise on the Schooner Woodwind or a relaxing 40-minute sightseeing cruise of Annapolis Harbor and the Naval Academy. Both options give you the opportunity to see the Naval Academy from a different vantage point.
Finally, since this is a "military style" getaway, take advantage of the MWR activities you can access as a member of the military community! Naval Support Activity Annapolis (NSA) is directly across the river from the Naval Academy and less than a 10-minute drive. In addition to all of the usual base facilities, NSA has a marina, where you can rent boats, kayaks, and stand-up paddle boards. It's a fantastic option for exploring the Bay and much less expensive than rentals at local civilian outfitters.
If you're a golfer, play a round at the Naval Academy Golf Club or spend an afternoon hitting balls on their grass driving range! Click here for non-member reservations.
Where to Eat in Annpolis
In addition to The Alley, there are a couple other dining options on the Naval Academy campus. Also, a small coffee shop recently opened only steps from Navy Getaways. They offer standard coffee shop fare and are the primary on-campus option for a quick breakfast if you're staying at Navy Getaways. The coffee shop opens at 0630 Monday through Friday and at 0900 on Saturdays. They are closed Sundays.
Outside the gate, Annapolis has many excellent restaurants to suit all tastes. We've tried many of them over the years and were never disappointed, but there are a few places to which we always return:
Chick and Ruth's Delly is the quintessential diner. They open daily at 0630 but serve breakfast all day. They also have delicious deli sandwiches, handmade pies, and of course, crab cakes! Stop by at 0830 on weekdays or 0930 on weekends to recite the Pledge of Allegiance with all of the staff and fellow customers.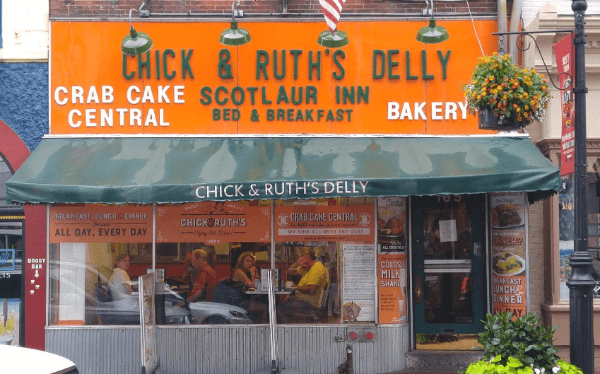 Sofi's Crepes is located right outside Gate 1 of the Naval Academy, so it's another good choice for a quick breakfast or snack. They have informal counter service, but their crepes – both sweet and savory options – are as good as any restaurant.
Ram's Head Tavern offers traditional pub fare along with local specialties and 100+ different beers. The food is good, but we come back for the outdoor patio and fun atmosphere.
O'Learys Seafood is a more upscale restaurant. It's perfect for a special occasion, romantic dinner, or when you're in search of the best crab cake!
Ready to Go to Annapolis?
Annapolis has everything you need to plan the perfect military-style getaway: great food, waterfront views, tons of affordable outdoor activities, and bargain-priced, luxurious lodging in a prime location. It's a destination with something for everyone, and as a military traveler, you'd be hard-pressed to find a location that makes better use of your benefits. What are you waiting for? Start planning your trip!
Related Reading
Tips for Reserving Military Lodging
10 Military Recreation Facilities to Try On Your Next Vacation
Top 3 Golf Courses from 2 Years of Travel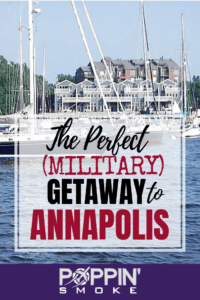 The post Annapolis, MD: The Perfect Military-Style Getaway appeared first on Poppin' Smoke.